The new 'WB Yeats' Rose

2015 marked the 150th anniversary of the birth of WB Yeats, and as part of Yeats 2015 a brand new Irish rose named 'WB Yeats' was launched.
Thank you everyone who contributed to the costs of breeding and launching this new variety, by donating or buying a rose lapel pin.
The WB Yeats rose is now commercially available to the public, although being a new variety, it is only gradually becoming widely available.
Western Plant Nursery at Skreen in Sligo keeps it in stock and takes orders.
Or enquire at your local garden centre.
Full details of the rose are below.
Holly Somerville's botanical painting of Rosa 'WB Yeats', showing its rich, velvety scarlet petals.

Get your own copy of Holly Somerville's stunning botanical painting of the rose to commemorate this new variety.
This is a Limited Edition run of just 100 prints
A3 size, high quality giclée Prints created by Fine Art Print Maker Tony Murray.
Individually numbered and signed by the artist, unframed, rolled and tubed for safety.
Posted to any destination.
€135 plus €18 p+p (standard) or plus €23 p+p (registered).
Order your commemorative print today at: www.hollysomerville.com
The idea of a new rose to be named for WB Yeats came from former Senator Susan O'Keeffe, who masterminded Yeats2015. Yeats wrote 18 poems about red roses, and also loved the common Rosa canina. Susan O'Keeffe asked Lorely Forrester, a founder member of Secret Gardens of Sligo and designer of the Gold Medal-winning Lake Isle of Innistree garden at Bloom 2015, to undertake the task of bringing the project to fruition ie, talking to breeders, selecting a new rose, appealing for funding, and finally launching the new variety.
Creating a New Rose
If you are already a rose-lover, you may know that it can take eight years to develop a new rose. Not every attempt is successful, and the process is inevitably a costly one. The WB Yeats rose, bred on Irish soil by renowned Dickson's Rose Nursery, has come through all its trials with flying colours and has already been awarded a Certificate of Merit by the Hague International Rose Trials, as well as a Gold Medal by the RNRS.

The WB Yeats Rose
The rose is a dark scarlet floribunda with purpley-red buds and, velvety red petals and bright golden stamens.
It is disease resistant and will flower from May to the first frosts if fed and dead-headed.
Each individual bloom on its multi-headed stems opens semi-flat to form a spectacular show.
A long flowering season was deemed important, for the rose to flourish in public spaces.
The rose will grow to a good size. Prune it back before the new season's growth begins.

 
The WB Yeats rose is now becoming widely available, and lots of people are enjoying it in their gardens.
With such a long flowering season, remember to mulch your rose, and prune back hard at the end of the year/early spring, as WB Yeats tends to only shed its leaves in very cold areas. Pruning should remove last year's leaves that otherwise will look less than happy the following year. Keep your rose well fed.
Enjoy!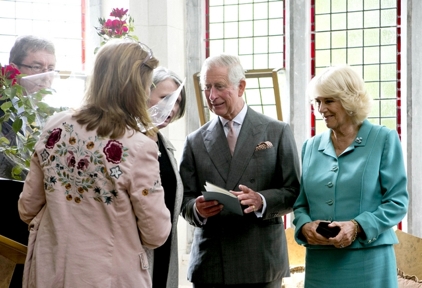 The Rose's History:
Prince Charles and the Duchess of Cornwall
The very first WB Yeats rose was presented to Prince Charles and the Duchess of Cornwall on their visit to Ireland in 2015. A rose was also given to the royal couple for their newborn granddaughter, Princess Charlotte, the Duke and Duchess of Cambridge's second child.
President and Mrs Michael D Higgins
The second shrub was given to the President, Michael D Higgins, and Mrs Higgins at Bloom at the end of May 2015
Joanna Lumley was also given a WB Yeats rose when she visited Sligo on the 150th anniversary of Yeats's birthday, the 13th June 2015. She came to open the Gold Medal-winning 'Lake Isle of Innisfree' garden, after it was transferred from Bloom to The Model grounds in Sligo Town.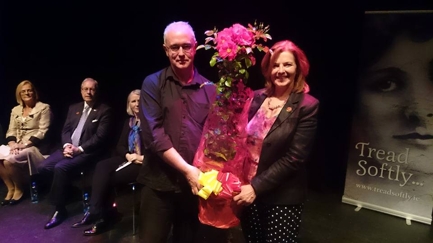 Roses were also presented to the novelist Joseph O'Connor when he opened the 2015 Yeats Summer School, and to Yeats' granddaughter, Caitriona Yeats.
The rose had its UK launch at the Hampton Court Flower Show at the end of June 2015.
TV presenter Rachel de Thame chose Rosa 'WB Yeats' for special mention in her coverage of the year's new roses on BBC2, saying that it was one of her favourites.
Order your WB Yeats rose from your local garden centre